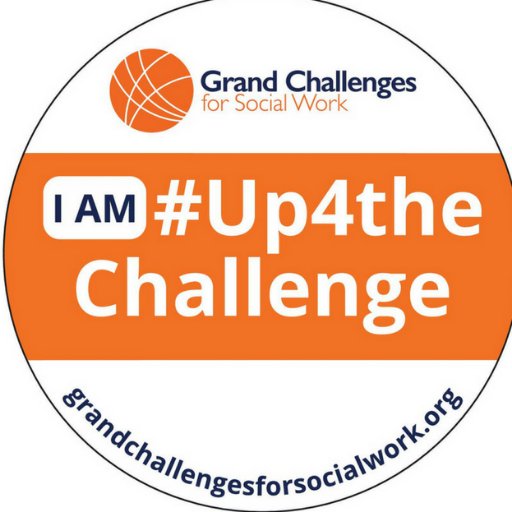 GCSW
Bio Grand Challenges for Social Work: Social Progress Powered by Science. A call to action for all of us to work together to tackle our toughest social problems.
Lokasyon Maryland, USA
Tweets 2,1K
Followers 2,7K
Following 540
Account created 24-11-2015 17:08:48
ID 4266043769
Nigeria | A Social Worker, an Advocate of Social Justice. Currently, National President, AMSWON and Deputy National President, NASOW.
Media expert handicapped Children are extremely powerful talk.ostadkar.pro/profile/shima_…
Western Hemisphere | Information on agencies, research centers, journals, and associations with scientific publications in the Western Hemisphere
International online group of social work educators. Sharing ideas to better prepare the next wave of social workers using technology @SophieGoldingay #SWTech

Djillong | Curious social work student
Dean @UKCoSW & Dorothy A. Miller Research Professor | Director, The Self-Care Lab | Foster/Kinship Alum & Advocate | KAΨ *Viewpoints Are My Own*

Nairobi, Kenya | my dignity
Bauchi, Nigeria | Chairman Spinal Cord Injuries Association Of Nigeria SCIAN. Bauchi State Chapter. Physiotherapy Department, Specialist Hospital Bauchi. +234 806 742 6736
Houston, TX | Proud D.C. native. GWU alum. UH Social Work alum. Anti-corruption. Anti-status quo. On the right side of history. 🌊🌊
Seattle, WA | Telehealth evangelist👩🏻‍💻 for #publichealth⚕️🌎 #socialwork ⚖️ After years of the healthcare sector not listening to me, #COVID19 made them.
West Chester, PA | Currently Independent. I retweet posts I find interesting. This doesn't mean I necessarily agree with them.
Love the Red Sox and WVU sports! Be the change you wish to see in the world!